I put my Christmas tree up yesterday. Yes, even for me this is uncharacteristically early, but I needed to take some Christmas photos for my Etsy shop, so up it went.
I've always loved Christmas. I love Christmas trees (the bigger the better) decorations, the twinkling lights, snow, carols, I even love Brussels sprouts 😊 I love searching for the perfect gifts, wrapping them up whilst watching a festive movie. I love the prettiness and warmth that comes with the Christmas season.
As a kid I loved Christmas Eve. Setting the table ready for Christmas lunch, leaving carrots and mince pies for Santa, going to the midnight service. As a teen, that midnight service was always my favourite. Lit only by candlelight, and the lights from the Christmas tree, it was such a peaceful place, a time to think about that very first Christmas.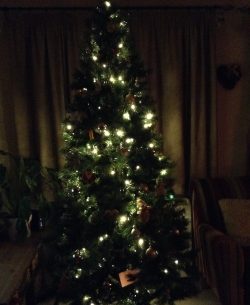 My oldest nephews have always called me Princess Christmas, a name we would laugh and joke about. I was always full of Christmas spirit, these days that lightness of heart does not come so easily.
So, knowing I needed to put my tree up, I thought I would try and enjoy the experience. I played Christmas music, and carefully unwrapped my tree decorations, remembering the stories behind each one, the places and people they had come from. Not all my ornaments came out of their boxes this year. For some the memories were just too painful. Next year perhaps.
As I started to trim the tree, my mind wandered. I found myself with a lump in my throat, and a heaviness in my heart. Somehow, knowing that Christmas is 'the season to be jolly', seems to make it all the sadder. With each decoration, the lump in my throat and the depth of sadness seemed to grow. I managed to hang up the final ornament before sinking into a chair and allowing the tears to come.
This season that should be full of joy and laughter, has now turned into a time that I would rather avoid. Sadly, I now have feelings of dread at the thought of Christmas. I never imagined that an occasion I once loved so dearly, would take such an about turn.
This will be the second Christmas since mum died. I expected last Christmas to be really tough, it wasn't. The anticipation was worse than the actual event. Grief is a complicated and confusing beast. Don't misunderstand me, that first year without mum was awful beyond anything I can describe, going through all those firsts, birthday, Mother's Day, Christmas etc. However, I am finding this second year, in many ways, harder still.
Last year was definitely a fight for survival. When you are newly bereaved, much of your time is spent in crisis management. Your body, mind, soul and spirit are in such a state of shock and numbness, all you think about is getting through today, and then the next day, and so on. In many ways you are in a bubble, and weirdly, your grief actually protects you from yourself. If we were able to absorb the fullness of our grief immediately following a loved ones death, we would die too. Instead, the depth of grief is gradually revealed and absorbed over time.
For me, last year was spent trying to stay alive. I don't say that flippantly, I'll perhaps touch on that in another blog post. I was also focused on getting through all those firsts. I thought I would feel different after that first year, I guess I do feel different, I just don't feel better.
I'm not in that crisis mode anymore, but instead, I am filled with a deep, deep sorrow. Of course I was desperately sad last year, but this sorrow is not the same. I can't really describe where it comes from, it is in the depths of my being, a physical pain that takes away my breath.
It isn't only mums death that has changed my feelings about Christmas. I noticed a book on my bookshelf the other day. It's a beautiful red bound book with gold writing, called the 'Christmas Memories Book'.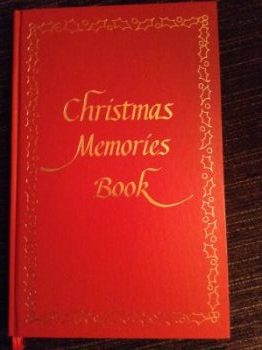 I bought it about 16 years ago when I was on holiday in the USA. I thought it would be so lovely to create a keepsake of Christmas memories and traditions as my family grew. I was saving it until I had a family of my own.
The pages are still empty.
I should probably give it away, but at the moment I can't let it go. Over the years I've had many ideas and traditions filed away in my memory. Some of them from my own childhood, things my mum did that I wanted to continue, others that were new traditions that I wanted to start. I never expected I would be single and childless at 46 years old.
I can remember that feeling of wonder and excitement I had as a child. Of course those feelings change as we grow up. But then we have children of our own and those same feelings return as we see them through our little ones eyes. The wonder of Christmas comes to life once again.
Being single over the holidays can be very sad, I always have to invite myself to join in someone else's Christmas. It is a season that simply highlights the life that I always wanted, but will perhaps never have. Pretty much all my friends have partners, are married, or married with children. Many of them will be celebrating a first Christmas with their little ones this year. I am happy for them, particularly those that have had struggles with fertility and miscarriages. This Christmas will be extra precious for them.
It is hard not to question God about these things. I try not to, whats the point? I guess over the years I've always had the hope of things to come, but the light in that hope has grown dim. I don't say that out of self pity, or to be negative or pessimistic. I say it because, for the moment, it is my reality. Bar some kind of beyond miraculous miracle, children will not be in my future. I'm single, in the latter end of my 46th year, and just to add another nail in the coffin, I had to have half my reproductive organs removed earlier this year. In short, things do not look good!
What is there to hang onto when hope is gone? How do you move forward? Where do you find the reason to go on when the future appears empty?
I talked through these thoughts with my therapist today. She asked me 'what is hope?' I looked up the definition when I got home.
Hope – a feeling of expectation and desire for a particular thing to happen.
Hope is positive. We are far more likely to have feelings of peace and contentment if we are hopeful. When we've lost hope, we have effectively given up. Without it, we will almost certainly feel a range of other emotions like disappointment, anxiety, fear, and even anger.
I came across this blog recently, www.hopequotient.com
This statement jumped out at me;
'When people lose hope, they lose their ability to dream for the future. Despair replaces joy. Fear replaces faith. Anxiety replaces prayer. Insecurity replaces confidence. Tomorrow's dreams are replaced by nightmares. It's a lousy way to live.
Hope propels us forward, even when the circumstances seem impossible.' – Ray Johnston
In Psalm 42 it talks about hope several times. 'Why is my soul so downcast and in despair? Why are you restless and disturbed within me? Hope in God and wait expectantly for Him'.
I know it sounds weird, but we can tell ourselves to hope! We can tell our hearts to be brave and to stand firm. Even the tiniest smidgen of hope can change the way we live. Hope enables us to live, not just to be alive, but to actually live. We may be waiting for the fulfilment of dreams, but we are not waiting alone.
I found a song on YouTube recently, I've linked it below. The words are so beautiful, 'take courage my heart, stay steadfast my soul. He's in the waiting'.
Perhaps like me you feel like hope has been lost. Perhaps you are also grieving for loved ones, or grieving a life that could have been. Perhaps you are in the middle of sad and desperate circumstances. Perhaps the coming Christmas season feels too much to bear.
Maybe you feel like you just can't go on. I have had that feeling myself.
My friend, you are not alone. God is with you in the waiting.
I'll repeat what I said earlier, just in case you missed it. Hope enables us to live, not just to be alive, but to actually live. We may be waiting for the fulfilment of dreams, but we are not waiting alone. You, my friend, are not waiting alone.
As I sit here in the glimmer of lights from my October Christmas tree, I think maybe, deep deep down,
I can find a tiny glimmer of hope. Perhaps I will hold onto my Christmas memory book a little longer.