I have a lavender stuffed rabbit sitting on the top of my mirror upstairs, I love this rabbit. He is old, faded, and has long since lost his sweet aroma, but still I love him. Normally I don't notice him, but the other day he caught my eye, and I stopped for a moment, a memory flooding my thoughts.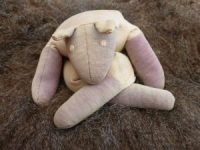 When I was younger, this rabbit used to sit on my bed. Everyday when I came home, I would find this rabbit positioned in comical poses by my mum, it would always bring a smile. Not the other day though, that day it brought a tear.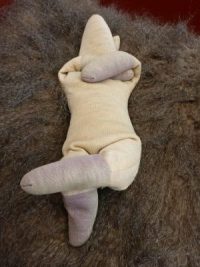 Such a small thing to elicit such a reaction. Not unusual though, this happens to me all the time. Sometimes these moments of sadness are fleeting, I can be crying one moment, and 5 minutes later it has passed. Other occasions might descend into full on weeping and wailing! It is the nature of grief, it has a life all of its own, and so I generally just try to go with it. If I try to suck it up, stiff upper lip and all that, I am only putting off the inevitable. Grief has to be felt, it must be experienced, it has to be worked through, and it is hard hard work. But that's a subject for another day.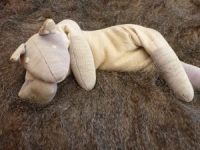 Back to the rabbit! So often it can be the most innocuous stuff that trips me up and triggers a reaction completely inappropriate for the time or place.
I remember being in Tesco Express, last year. Mum was in hospital after suffering a catastrophic brain bleed. (When doctors use the words catastrophic, the prognosis can be nothing but extremely poor)
So, there I was in Tesco, standing in front of the yogurts with my empty shopping basket. I remember feeling the colour drain from my face, I felt my shoulders drop, every ounce of strength seemed to leave my body and an audible heavy sigh escaped my lips. Powerless to hold myself together in a public place, the tears rolled.
Was I thinking about mum, the hospital, the doctors prognosis? No, it was the yogurt. The sight of row upon row of every brand and flavour simply overwhelmed. I felt the panic rising in my throat faced with this monumental decision. Yes, I know it sounds ridiculous, choosing a yogurt is hardly life changing, but it was a decision, a decision I was unable to make.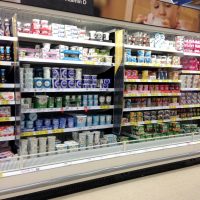 I don't recall many details of mums last month in hospital, or the subsequent months following her death. My friend remembers though. She recalls me being unable to make any kind of decision at all. I couldn't even give a simple answer to the question 'coffee or tea?' and I don't even really drink tea! It was simply an indication of where I was emotionally, the very smallest decision was enough to bring me to my knees.
My therapist, (yes I have one, not very British I know, but she has kept me sane, and alive!) My therapist gave me a really helpful illustration. Imagine your life is a glass of water. When life is 'normal', on an even keel, your glass is maybe half full of water. When situations in life arise, stress/worry, there is capacity in your glass for more water (more of life).
When you are in crisis, faced with extreme stress, your glass is already full to the brim. Your capacity is at its limit. Add the tiniest amount of liquid to the glass and it will overflow. Faced with the smallest amount of stress, and you are overwhelmed. You are permanently at the very limit of what you are able to cope with, which is why the little things can have such an effect. Hence, the rabbit and yogurt incidences.
Every now and again, I get a flashback to the feelings I had right after mum died. I'm able to recognise now, that I was in a permanent state of heightened anxiety. I used to feel like I was walking along a mountain ridge, maybe only a few inches wide. The very smallest thing could tip me off balance and send me tumbling down the mountain. Again, this goes back to the cup overflowing.
I had another Tesco incident (must start shopping somewhere else!!) I was standing in the queue with my shopping, feeling a bit low. I remember thinking, I'll give mum a call when I get home. For just a moment she was still alive. Again, the weight of her death brought me to my knees. I abandoned my shopping and stumbled back to my car, broken again.
Our brains play tricks on us, I think this is because the magnitude of trying to process and accept a loved ones death, is just overwhelming. I felt like my brain was drip feeding me the information, very slowly letting a little more reality sink in. I'm not a psychologist, but I think it is a way of protecting ourselves. God created us to be able to grieve, if we had to deal with the weight of grief all in one go, we would simply die of shock, but it doesn't happen like that. It happens slowly over time, gradually working through different areas. Slowly accepting our new reality. I'm not saying that it's an easy process, it's bloody hard, and desperately sad. But we can survive it, we were created to be able to grieve.
I'm gonna get practical now, because at some point we will all be bereaved, or trying to support someone else in their grief. I'm going to talk from the point of the bereaved because that's been my experience, but it could be applied to another area of extreme stress.
After mum died, I remember a number of people saying 'call me if you need anything'. It seems such a simple and kind offer of help, but here's the thing, we are never going to call you. There's a few reasons why, partly because picking up the phone takes more energy than we have, partly because talking on the phone is just too difficult at the moment, but the biggest reason that we won't call if we need anything, is because we just don't know what we need. Our minds are foggy and muddled, in fact, we are not in our right minds at all. We can't think straight, so the question 'What can I do to help?' is impossible for us to answer.
It's much more helpful to ask questions with yes/no answers. Even more helpful is for people to anticipate needs, and take initiative. Things like 'I'm making lasagna for supper, can I bring a portion round?' Or, 'can I pick you up in an hour and take you for coffee?' Definite plans are very helpful. We won't always say yes to your offers of help, but answering yes or no is much easier for us to handle. If we don't take you up on an offer, it isn't personal. I can remember when getting out of bed, going downstairs and feeding my dog was my biggest achievement of the day. Things that we do automatically in everyday life have now turned into almost insurmountable tasks.
I know this makes us (the bereaved) seem very needy. Well, we are, in desperate need! Grief is selfish, because it consumes every single ounce of our being. This is not specific to me, all those who grieve will be consumed by their loss. If you haven't experienced a significant bereavement, you won't really understand, but take my word for it, because one day you also will enter a period of all consuming grief. You too will one day need those friends around you, who will love you and care for you, and put your needs, for a period of time, before their own.
I'm sure you're all familiar with the song 'His eye is on the sparrow'. I love the picture this song portrays. Not one sparrow falls to the ground unnoticed. If God can see the sparrows, He surely can see you and I! He even says in Matthew 10:31 'Do not fear, you are more valuable than the sparrows'.
The previous verse says 'God knows even the number of hairs on your head'. Considering I've lost a good chunk of my hair 3 times since my mum died, if God can keep up with the amount of hair on my head, or lack thereof, then that's quite an achievement!!
My point is, God isn't only interested in the big things in our lives. He sees all the little things too. He knows all the small things that trigger your 'grief moments'. He understands why a lavender bunny can reduce me to tears. He knows my thoughts, all of them, Psalm 139:2. Thank God someone understands me! More importantly, His thoughts towards you and I are precious, and more in number that the sand. Psalm 139:17.
So dear friend, next time you have a 'Tesco' or 'bunny' moment, or whatever your grief trigger is, know that right in that moment, God is with you. He is seeing all your thoughts and memories, and catching all your tears.
And know too, that in that moment, as in every moment, His thoughts toward you are innumerable and precious, because you too are precious.
I'm off to Waitrose!! 😊